Feelings of international students on trip to Minh Chau Island, Quang Ninh
Ly Lam (China): brilliant Summer and memorable Minh Chau trip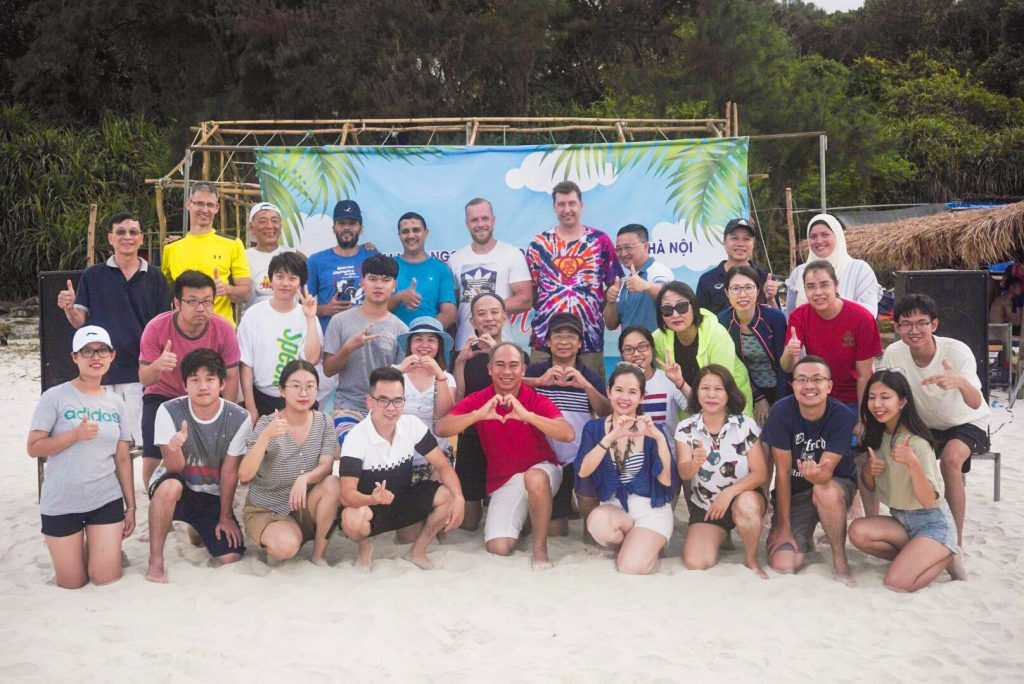 Minh Chau, a place I had never known before the trip took place, has left a deep, vivid impression of Vietnam on me.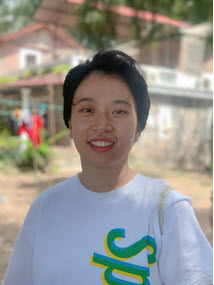 Why? If you looked back on the past 3 days, you would definitely find this answer. This time, the Cooperation and Development Office held a trip for international students and teachers. We were so honored to be joined by school's leaders. The destination of this visit was Minh Chau Island. Minh Chau is a super beautiful island, with pristine beaches and fresh air. You can see many great views and meet enthusiastic, hospitable people.
Through this trip, I got to know extremely friendly teachers and made many lovely friends. On the journey, we exchanged about cultures and languages of other countries, shared our learning experiences and life experiences together. We walked along the beach under the stars, and enjoyed seafood dishes in Minh Chau.
Thanks to this opportunity, I have experienced many new things such as beach karaoke, campfire, banana boat and many others. The first time in my life, I woke up at 3:30 am to see sunrise, first time attended a birthday party of a teacher, first time played games with friends from different countries, etc. These are the reason why this trip became the most memorable memory in my life.
Finally, I would like to express my sincere thanks to the teachers of the Cooperation and Development Office for arranging this journey for us, and to ULIS for facilitating such a brilliant trip. Once again, I wish the teachers and friends always happy and good health.
Kim Min Jeong (Korean student):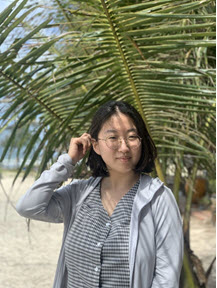 This trip, for the first time ever, not only did I visit such an beautiful Island, but I also had the opportunity to meet foreign teachers and students at ULIS.
During the trip, I went to a lot of stunning landscapes and experienced many new things. I had the opportunity to meet and interact more with other foreign students studying at the University. I was very happy and believed that this was a very good opportunity for me to use more of my Vietnamese, better understand the culture of Vietnam and the countries. Thanks to ULIS and the teachers for organizing this trip!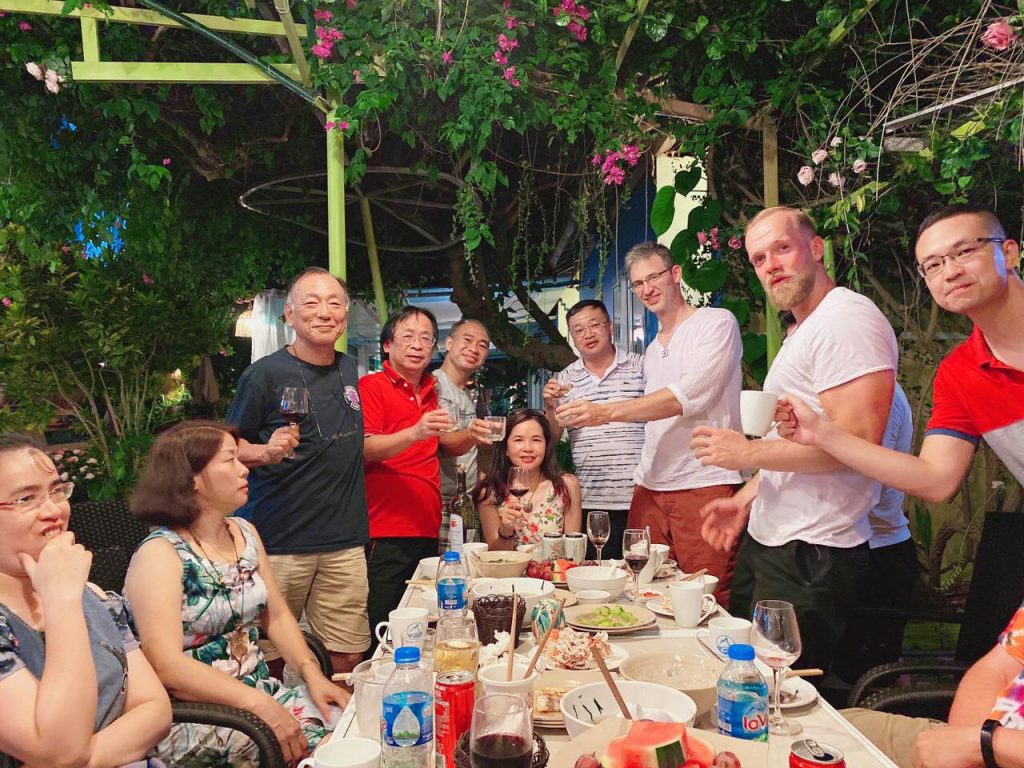 La Lap Soai (China):
In June, ULIS organized a trip for international students to visit Minh Chau Island. This is a special experience for me, so I have a lot of feelings on this trip.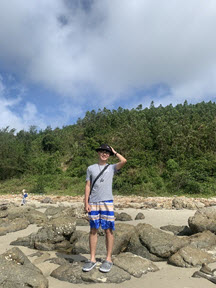 On this trip, I enjoy the unique scenery of Vietnam. This time, when I went to Minh Chau island, I saw the unique scenery when sailing and watching the rocky mountains standing above the sea level, seeing the clear blue sea, I felt very happy and comfortable. After coming to Minh Chau island, the teachers organized a tour to visit wonderful landscapes. I really like the Vietnamese landscapes.
In this trip, I have made many friends from around the world. In the tour, there were many friends from abroad. Despite of the difference in nationality and background, we can still talk and exchange a lot. We all were so friendly to each other.
During this trip, in addition to going out to see the beautiful scenery, the teachers organized collective exchanges such as campfire and beach karaoke, etc. I participated in all activities. I felt very happy. Other friends were also very active in the activities, so It was always fun and exciting.
This trip is very memorable, leaving a deep impression on me at the end of my study in Vietnam. I really like Vietnam, I also thank ULIS for organizing this trip, this is a special and nice memory.
Kim Jong Hyon (Korea):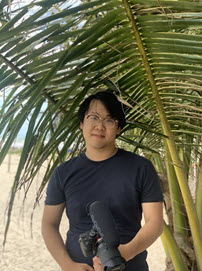 For me, this trip is not only a fun trip but also a meaningful journey.
The trip was really great, the food and accommodation also made me very satisfied. During the trip, I met friends with many different nationalities, and I thought this was a special and interesting experience. I met friends from Ukraine, China, Japan, Russia, and shared my learning experiences and life in Vietnam with them. In addition, I also had the opportunity to talk to many foreign teachers, especially with Mr. Snider, who really made me very impressed I also had chance to talk with President Do Tuan Minh, got to know his interest in foreign students made me very touched. I want to extend my deep thanks to the teachers for giving me the opportunity to participate in such a wonderful trip.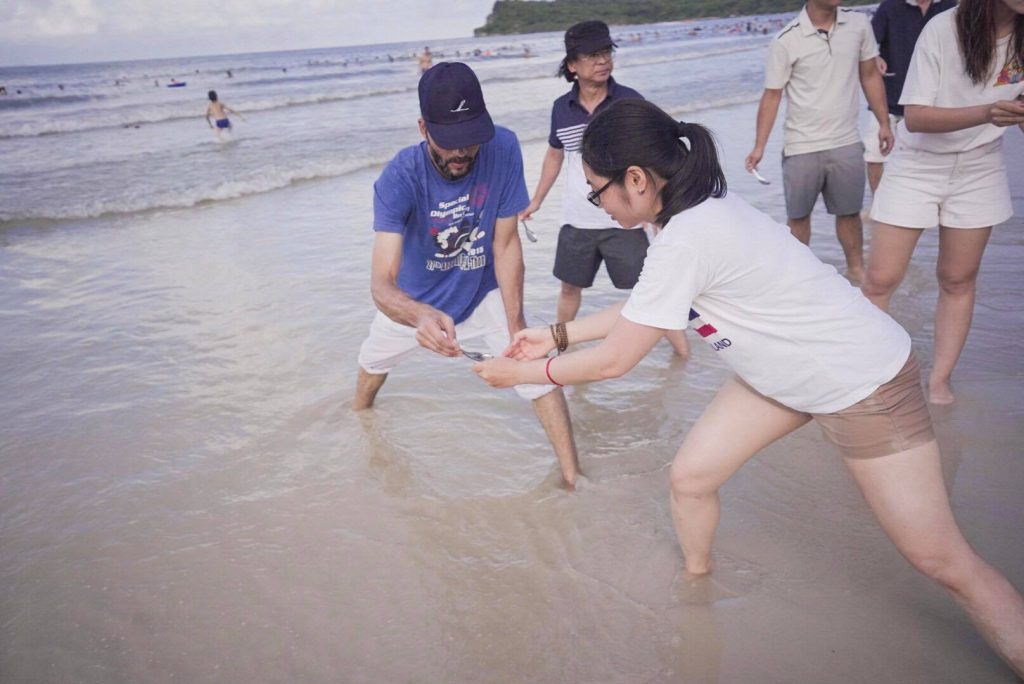 Khoanh Kieu Nhkat Kha (Ukraine):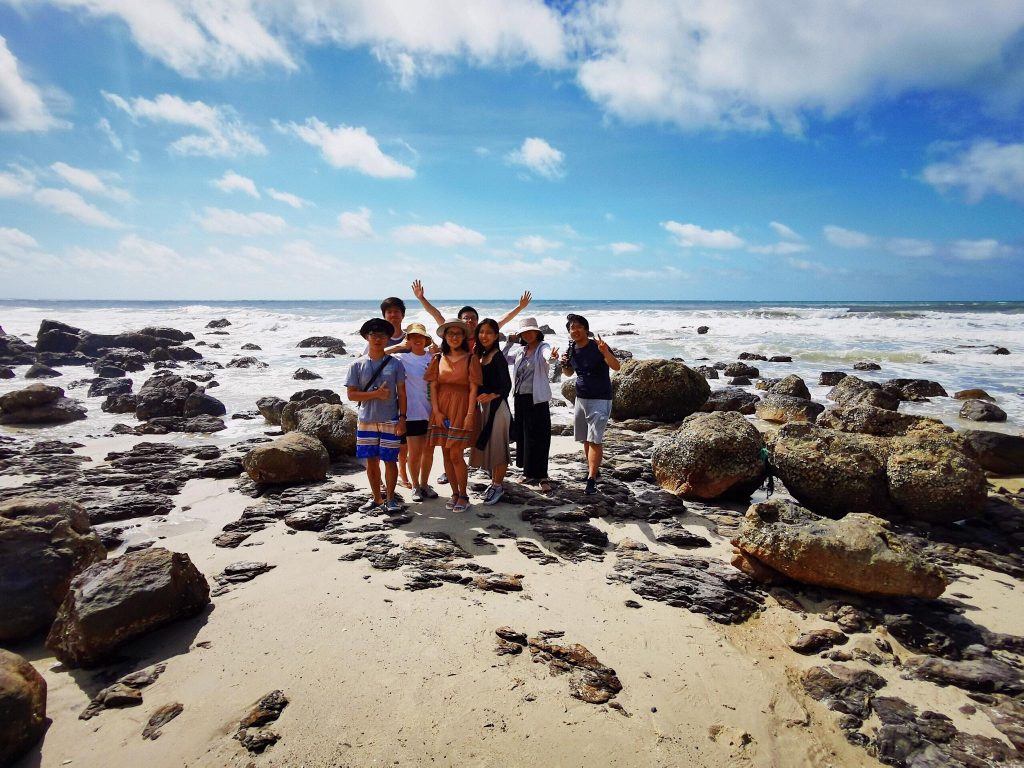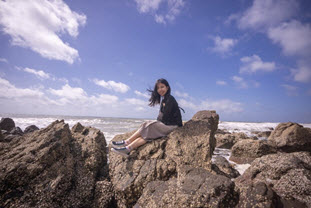 I am a foreign student from Ukraine. I have been studying at ULIS for 1 and a half years, and this was my first trip to Minh Chau, Quang Ninh. At first I was quite worried because I had to stay in Minh Chau for 3 days with people I did not know. I was sure if I could talk and make friends with them. But less than a day, I made many cute and friendly friends. I also knew more about the work that teachers in Vietnam have to do. I find that the teachers really are and have been trying hard to create the best conditions for international students studying at ULIS. I feel very grateful. After this trip I can understand my school better, understand the work of the teachers more and have the opportunity to make and interact with friends from other countries. I would like to thank the teachers for organizing this trip.
Egamora Gulnara Ruzmetovna (Russia):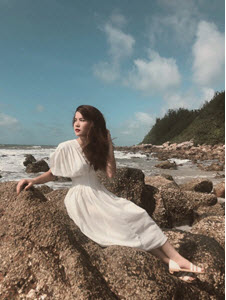 At first, I was quite surprised and happy when knowing that ULIS would organize a trip for international students studying at the University like me. This trip has brought me a lot of memories, laughter. Thanks to this trip, I have overcome a pretty big challenge for me. I also interacted with other international students, foreign teachers and teachers working at the University. I think that this is a pretty great advantage to visit and experience Vietnamese culture, and at the same time, talk with friends and teachers in both Vietnamese and English. I hope next year and years after, ULIS would organize trips like this for international students, because the trip was really fun. I would like to thank the teachers and the University for organizing the trip for us.