Hirona Yamamoto: "Experience in ULIS helps to broaden my horizons"
This is an interview conducted by ULIS Media in order to learn more about the journey of a Japanese person at ULIS. She finished her master in Teaching English as a Foreign Language Program at the University.  
Journalist: Can you share a little bit about your personal information?
I am Hirona Yamamoto from Hokkaido, Japan. I am 26 years old.  I was in cohort 27 of Master of Science in Teaching English as a Foreign Language Program.  
Journalist: Is studying abroad a dream from a young age?
Yes. Studying abroad was one of the biggest dreams from my young age. I became interested in foreign languages and cultures through taking part in an international exchange program which held in Hawaii when I was 11 years old. Since then I have worked on hard and grabbed some opportunities to study abroad.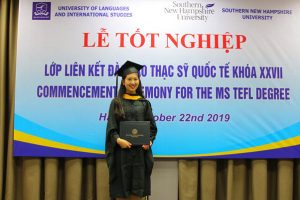 Journalist: Share a little bit about the path that led you to ULIS?
One of my Vietnamese friends introduced ULIS and the course to me when I was about to graduate my study in university. I had considered whether to take master degree in the US or work in Vietnam for my next career, so when I got to know about the course of ULIS, I thought it was the best path for me and applied it.
Journalist: What did you worry about before going to study in Vietnam and at ULIS, also?
I hadn't been worried so much before going to Vietnam because it was my fourth time to study abroad, and I had some friends in Vietnam. However I was worried about Hanoi's transportation, safety and language differences. I was also worried about me keeping up with my class at ULIS.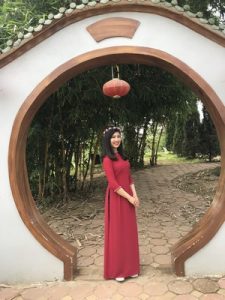 Journalist: Why did you choose to study that program at ULIS?
The main reason that I chose this program was I would like to be a professor in the future, and I thought it would help me in the career path ahead. In addition, the program fit on my interest and previous major at university.
Journalist: How do you feel about ULIS learning and facilities?
Studying at ULIS was a really good experience for me to develop my knowledge. I am so satisfied to study in ULIS while there were not so many Japanese students studying in Vietnam. I had faced some difficulties, but I was always motivated by my classmates and professors, and got over them. However I think some of the school facilities should be improved.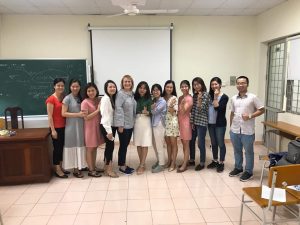 Journalist: What do you feel about Vietnamese people, about teachers, about friends at ULIS?
I think it depends on the person, but generally Vietnamese people are very friendly, helpful and proactive.
Most of teachers at ULIS were knowledgeable and respectable. I was able to learn not only what were written in textbooks but also other valuable things from them.
Friends at ULIS were also very nice. Whenever I faced difficulties or had problems, they helped and motivated me. We also enjoyed sharing Vietnamese and Japanese cultures. It helped me to understand Vietnam more.  
Journalist: After all, what makes you most impressed about ULIS?
I was impressed that ULIS's students have clear visions for their futures and high motivations.
Journalist: What does 'studying in ULIS' help you in the career path ahead?
I think my experience in ULIS had a big impact on my career. I could not only gain the knowledge which is necessary for my future career but also broaden my horizons through living in Vietnam and studying at ULIS. While studying in Vietnam is not common for Japanese, I was able to experience the education in Vietnam, which is currently undergoing rapid development. It was a great opportunity for me to rethink what I would like to be in the future.
Journalist: Your plan in the near future?
I would really love to get a PhD and be a professor in the future. I also want to be a person who will contribute to the development and friendship between Japan and Vietnam.