President Do Tuan Minh welcomed and worked with Korean Ambassador in Vietnam
On November 23th, 2016, Dr. Do Tuan Minh – President of University of Languages and International Studies – Vietnam National University, Hanoi (ULIS – VNU) welcomed Mr. Lee Hyuk – Ambassador of the Republic of Korea in Vietnam.
The meeting also received the presence of MA. Mai Van Hoa – Vice-Director of Cooperation and Development Office, Dr. Tran Thi Huong – Dean of Faculty of Korean Language and Culture (FKLC); Dr. Nguyen Thi Thanh Mai and Dr. La Le Thu – Vice-Dean of FKLC and Heads of Divisions of FKLC.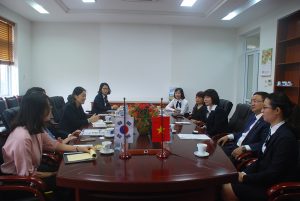 During the reception, President Do Tuan Minh is pleased to announce to the Korean Ambassador that Korean is currently an extremely popular language at the University of Foreign Languages, which is reflected through the number of students in entrance examination and the input results. Especially, after about 20 years of teaching Korean language, our school will start organizing training Korean pedagogy from next year, becoming the first and currently the only formal unit training teachers in Korean education. We also finalize dossiers for submission to the Vietnam National University for approval of Master training program of Korean education, striving to become the first and currently the only school with postgraduate education for this language.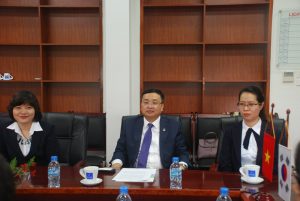 Besides, from 2017, The Foreign Langue Specialized School (FLSS) will start to teach Korean as the first language. Therefore, from the following year, Korean will be taught at ULIS at three levels: High school, University and Post-University.
The President revealed the University is having a close relation and friendly relationship with many Korean companies and groups through activities such as offering scholarships, factory visiting, internship…
Because of the increasing need in studying Korean of Vietnamese students, President Do Tuan Minh hoped the Ambassador Lee Hyuk keeps assisting and supporting the University in training and studying this language.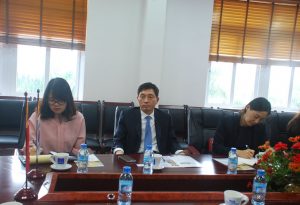 Ambassador Lee Hyuk said he was very glad to witness the significant development of Korean at ULIS. Since the establishment, the relationship between two countries has increasingly developed, especially in economy. It is the result of attaching great importance to Korean training in universities especially in ULIS.
Korean training programs, which are implemented in ULIS, will be the foundation for the relationship between Korean Ambassador and ULIS as well as two countries. Ambassador himself and Korean Embassy or other Korean companies are willing to help and support the University in training and studying Korean.
Both President Do Tuan Minh and Ambassador Lee Hyuk agreed to work actively for further cooperation.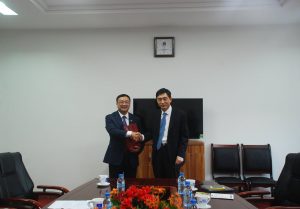 After that, Ambassador Lee hyuk had a talk in front of students from FKLC at Nguyen Van Dao hall. The presentation about Viet Nam- Korean relationship caught attention of the whole students in the hall. In the talk, the Ambassador emphasized the accomplishments of investment by Korean into Viet Nam. In addition, he mentioned the cooperation of personnel and human.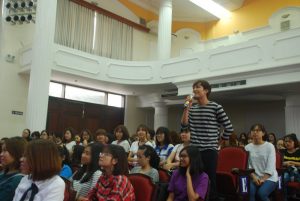 The sharing with students came right after the presentation. Ambassador Lee Hyuk answered questions by students of FKLC about Vietnam – Korea relationship; his impression on Viet Nam landscapes and people; global citizens and TPP pact.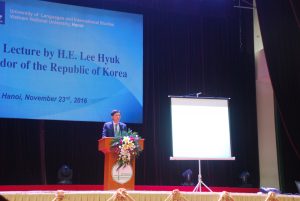 "The Ambassador's talk was really interesting. I have expanded my knowledge about Viet Nam – Korea relationship as well as the importance of Korean in integrating world. I hope the Ambassador will pay a visit to the University and make other helpful presentation for students" – shared Ngo Thu Hang – a second-year student of FKLC.