Promote cooperation with the French Embassy
On May 26th, 2020, ULIS – VNU held the meeting with the French Embassy in Vietnam. Mr. Étienne Rolland-Piègue – Counselor for Cooperation and Literature Activities led the delegation.
Attending the meeting were President Do Tuan Minh, Vice President Nguyen Xuan Long, Director of the Cooperation & Development Office Do Minh Hoang, Deputy Director of the Asset Management & Security Office Pham Dinh Luong, Director of the General Administration Office Nguyen Doan Phuong and Deputy Director of the Office Nguyen Thi Lan Huong, Assoc. Prof. Dr. Dinh Hong Van – Dean of the Faculty of French Language & Culture, Director of the Center for Resource Development Nguyen Van Son.
At the meeting, Mr. Étienne Rolland-Piègue appreciated the French training activities of the University. Acknowledging the strong cooperation between the Embassy and ULIS, he also proposed a number of cooperative activities that could be carried out between the two sides in the coming time, aiming to enhance this relationship.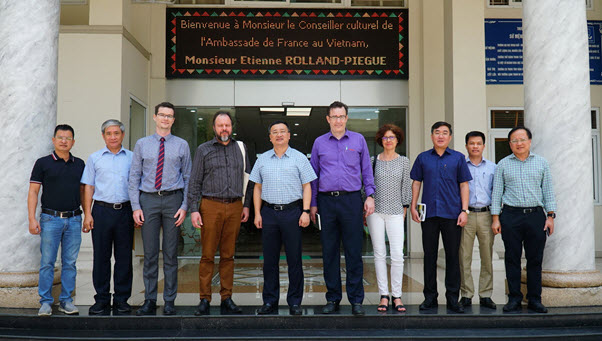 Thanks to the support of the French Embassy, especially to the activities of the French Space at ULIS, President Do Tuan Minh expressed his desire to continue many cooperative activities between the two sides, contributing to promoting French language and culture in Vietnam.