Signing the cooperation agreement with LG Display Vietnam Hai Phong
On April 23th, 2018, the University of Languages and International Studies – Vietnam National University, Hanoi (ULIS – VNU) held a signing ceremony of cooperation agreement with LG Display Vietnam Hai Phong Co., Ltd.
The ceremony was attended by Dr. Do Tuan Minh – ULIS's President, Assoc. Prof. Ngo Minh Thuy – ULIS's Vice President, Dr Do Minh Hoang – Director of Cooperation and Development Office, M.A Vu Van Hai – Director of Polistic and Student Affairs Office and teachers of Faculty of Korean Language and Culture. From LG Display Vietnam Hai Phong, Mr. Sung In Gyong – Director of Human resources Department took part in the ceremony.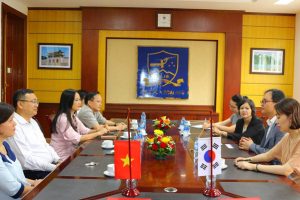 ULIS and LG Display Vietnam Hai Phong has conducting specific cooperation activities recently. At the ceremony, representatives of the two sides signed a memorandum of understanding which marked a new progress in this cooperative relationship. The two sides agreed to establish and encourage joint training, recruitment and other activities. LG Display Vietnam Hai Phong will provide annual scholarships to students with high academic results and receive good students to do internship at the company. ULIS also agreed to introduce potential students, create favorable conditions and support the recruitment activities as well as scientific research of the company.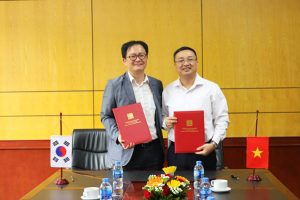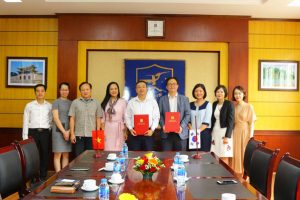 Addressing at the ceremony, President Do Tuan Minh spoke highly of the cooperation potential of both sides and pledged to strongly support related cooperation activities. The university is proud of training generations of talented students majoring in not only Korean but also other languages. These students will act as the premises to promote the increasingly developed relationsho between the two sides. Moreover, recognizing the success in Korean language education at ULIS over the past many years, Mr. Sung expressed his desire to open up many opportunities for cooperation and build a strong school-business relationship with ULIS.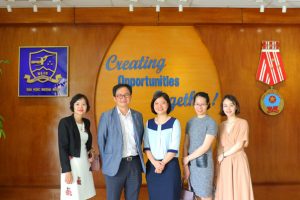 The signing ceremony of cooperation agreement with LG Display Vietnam Hai Phong successfully came to an end, promising opportunities for cooperation between the two parties in the coming time. Previously, representatives of the company had attended the celebration of Korean Teacher Day at Vu Dinh Lien amphitheater.