The meeting between students of Japan College of Foreign Languages (JCFL) and ULIS
On November 17th, 2017, University of Languages and International Studies – Vietnam National University, Hanoi (ULIS – VNU) held the closing ceremony of the course "Experiencing Vietnamese Language and Culture" for JCFL students in 2017.
From ULIS, the ceremony was attended by Dr. Do Tuan Minh – President of ULIS, Dr. Ngo Minh Thuy and Dr. Nguyen Xuan Long – Vice President of ULIS, representatives of departments, lecturers and volunteers who joined the course. From JCFL, President Yoji Ise, Vice President Hirano Kumiho, Mr. Kojima Takeshi – Manager of International Affiliation Programs, Hidehiro Tashima and Ms. Sugie Miho (delegation managers) together with 28 students attending the course took part in the ceremony.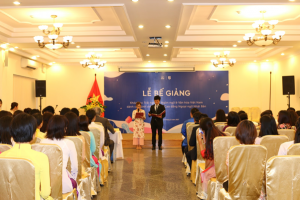 At the ceremony, President Minh congratulated JCFL students on their course completion. He appreciated JCFL students' bravery to choose this 'study tour' and hoped that experience and skills which they had gained would be conducive to their success in the future.
On behalf of JCFL, President Yoji Ise extended his thanks to ULIS for having conscientiously prepared for course. Notably, he expressed his happiness and pleasure when this tour – a prominent cooperative activity between two schools – has been successfully organized. He hoped that the two universities would have more successful cooperative programs in the future.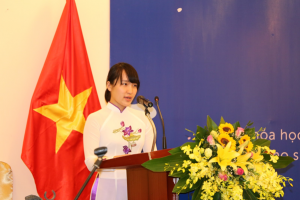 Mai – the representative of JCFL students – showed her great gratitude to lecturers who had devoted and helped her to have more wonderful experiences than she expected.
After two-week period of joining the short-term Vietnamese course and studying Vietnamese culture at ULIS, JCFL students had a chance to learn and experience Vietnamese language, culture and daily life in Hanoi as well as many top-rated tourist attractions in Vietnam. On behalf of the two schools, President Minh, Vice President Thuy and President Yoji Ise presented certificates and souvenirs to JCFL students.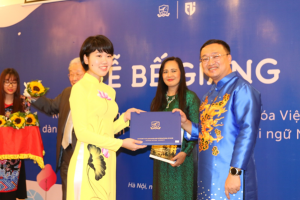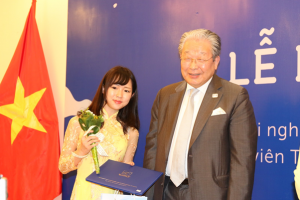 The Gala show included performances: Traditional music performances, folk dance "Waves of the Silk Road" and especially the performance of 28 JCFL students which made the atmosphere of the venue extremely vibrant.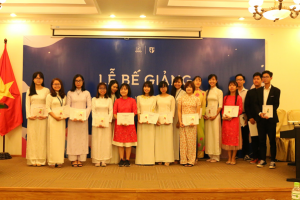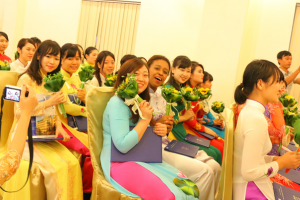 The closing ceremony of the course "Experiencing Vietnamese Language and Culture" for JCFL in 2017 was successfully organized. JCFL students expressed their cherishment to Vietnamese teachers and friends when leaving ULIS.