University of Languages and International Studies jubilantly held the opening ceremony for the new academic year of 2017- 2018
On September 20th, 2017, University of Languages and International Studies, Vietnam National University, Hanoi (ULIS – VNU) held a ceremony for the new school year of 2017-2018 at Nguyen Van Dao Amphitheater, VNU.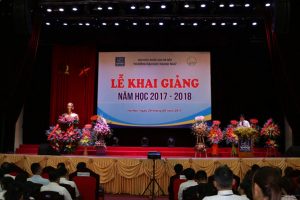 From the agencies of foreign affairs, Mr. Mohamed Ismail Al Emadi – the ambassador extraordinary and plenipotentiary of Quatar in Vietnam, Ms. N.V. Shafinskaya – the Second Secretary of Embassy of Russian Federation, Director of Russian Center of Science and Culture in Hanoi, Mr. Abdulla Ali A.A. Al-Shibani- the Third Secretary of Embassy of Quatar in Vietnam took part in the ceremony.
From VNU, the ceremony was attended by Assoc. Prof. Dr. Nguyen Hoang Hai – VNU's Vice President, Mr. Vinh Bao Ngoc – Deputy Chief of VNU's Office, Ms. Le Thi Thu Thuy – Vice Director of Academic Affairs Department, Mr. Dinh Van Dung – Director of Political-Student Affair Department and representatives from functional offices.
For ULIS's partners, there were Regina Miracle International Company, Japan Alumni of Vietnam, Vietnam Airlines, Bao Tin Minh Chau Company – Branch at 139 Cau Giay street, Sam Sung Electric in Vietnam.
From ULIS, there were Dr. Do Tuan Minh- Secretary of ULIS's Party Committee, ULIS's President, Assoc. Prof. Ngo Minh Thuy – Deputy Secretary of ULIS's Party Committee, ULIS's Vice President and representatives of all units in the University. Notably, 1.345 new students – cohort K51 – QH 2017.F1 of ULIS also presented at the ceremony.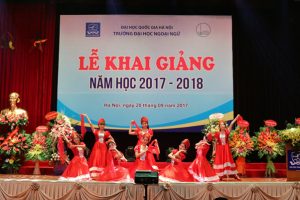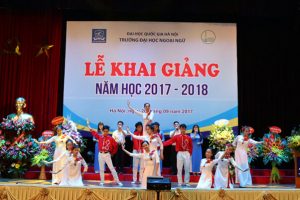 Assoc. Prof. Dr. Ha Le Kim Anh – Director of Academic Affair Department read the admission decision for new students in the intake QH.2017.F1 (2017 – 2021). According to the decision, in the 2017 entrance exam, 1345 students passed the entrance exam. Specifically, Faculty of English Language Teacher Education has 547 students (English for teachers: 210 students and English linguistic: 337 students), Faculty of Russian language and culture has 64 students (Russian for teachers: 21 students and Russian linguistic: 43 students), Faculty of French language and culture has 143 students (French for teachers: 27 students and French linguistic: 116 students), Faculty of Chinese Language and Culture has 167 students (Chinese for teachers: 23 students and Chinese linguistic: 144 students), Faculty of Germany Language and Culture has 97 students (German linguistic: 97 students), Faculty of Japanese Language and Culture has 165 students (Japanese for teachers: 30 students and Japanese linguistic: 135 students), Faculty of Korean Language and Culture were 142 students (Korean linguistic: 142 students) and Faculty of Arabic Language and Culture has 20 students (Arabic linguistic: 20 students).
In the ceremony, 16 entrance valedictorians of each major were commended. At the same time, representatives of the Faculty's Board of Dean also sent greetings to the new students. In addition, the ULIS also rewarded and commended 31 outstanding students for their academic achievements in the academic year of 2016-2017.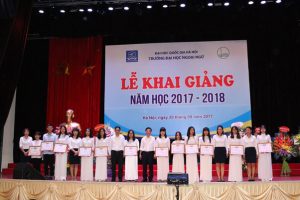 In the process of development, ULIS has always received the support from its partners. In the ceremony, Mr. Mohamed Ismail al emadi – Ambassador Extraordinary and Plenipotentiary of the State of Qatar in Vietnam donated 15 million VND to the school for course book development and 5 scholarships of 25 million VND for ULIS's students. Representatives of the Bao Tin Minh Chau Chau Lmt. Co, Branch at 139 Cau Giay street awarded 10 scholarships of 10 million VND to the students. Representatives of Regina Miracle supported 5 million VND for the operation of the center for student support.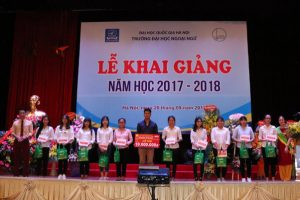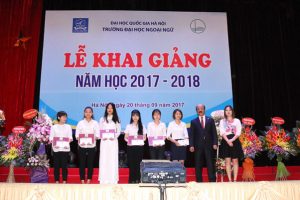 Ms. Nong Thi Hong Ngoc, the new valedictorian of ULIS with an impressive score of 40.75, expressed her pride to be a student of ULIS – a university reputed for the top quality of foreign language training.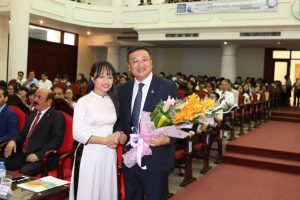 Addressing at the ceremony, President Minh extended his warm welcome and sincere thanks to new students choosing ULIS as the place to study in the 4 upcoming years. Over the past few years, ULIS has undertaken many renovations on facilities, student management and support as well as extracurricular activities to create the best learning environment for students. According to the President, the formula for success of the campus life is to try your best. As a President, Dr. Do Tuan Minh pledged to work with his staff to continuously increase the student satisfaction indicator on ULIS.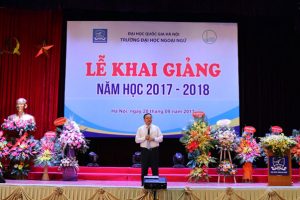 Closing the ceremony was a photo shoot and firework lighting. The sparkling firework glittered as if containing the dream, ambition and bright future of the new students of ULIS. Once again, congratulations to all QH2017.F1 students. "They have 4 years to strive for. These four years will give you all the future and ULIS is where you will realize what you desire." Mr. Nguyen Tuan Anh, Vice Dean of the Faculty of English Language Teacher Education, said at the opening ceremony. Let's light up the future and hope by living to the fullest in the 4 upcoming years in this University!