University of Languages and International Studies – Vietnam National University, Hanoi (ULIS – VNU) attended the Asian Youth Forum in Korea
On October 27th, 2017, K-NICE Project held "Startup forum for East Asia Youth" in Keimyung University, Daegu City, Korea. The aim of this forum is to find the best ways for developing startup spirit of the youth through the interaction and exchange of several schools and businesses from Korea, Vietnam, and Indonesia.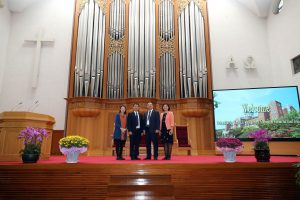 Participating the forum, the Delegation of ULIS – VNU led by Dr. Do Tuan Minh – ULIS's President included Dr. Tran Thi Huong – Dean of the Faculty of Korean Language and Culture (FKLC), Dr. Nguyen Van Son, Director of Center for Resource Development, Dr. Do Phuong Thuy – Lecturer of the FKLC. The delegation was warmly welcomed by the host right after they landed on Korea and during their visit.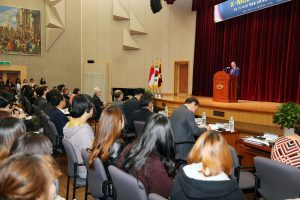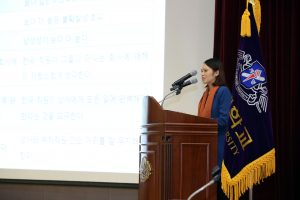 Notably, during the time the official forum was taking place, speeches made by ULIS representatives were attended to by the guests and over 300 students from Keimyung University. Adressing At the event, President Do Tuan Minh emphasized the close ties between Vietnam and Korea which dates back to the past history of the two countries as well as the strong cooperation in numerous fields, especially in economic and political affairs. In addition, he expressed his expectation in a closer cooperation between ULIS and Keimyung University regarding teacher and student exchange and other academic activities. ULIS's delegation was also very impressed by the modern campus of Keimyung University and its educational philosophy of "respecting traditional values" and "continuously connecting with the world."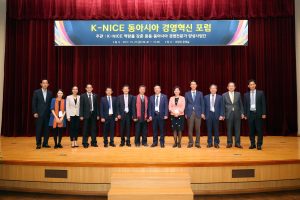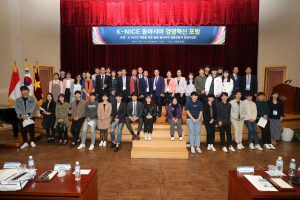 The ceremony laid the foundation for a strong relationship between ULIS and Keimyung University. Thanks to the deep concern from leaders of the two schools, their cooperation in all aspects would be actively promoted.