University of Languages and International Studies, Vietnam National University, Hanoi (ULIS-VNU) signed cooperation agreement with Japan Alumni of Vietnam (JAV) and Japan Association for Promotion of Internationalization (JAPI)
On September 9th, 2016, ULIS-VNU organized the signing ceremony of four-sided cooperation agreement with JAV and JAPO.
Up to 2016, ULIS-VNU has officially taught Japanese for over two decades. With the increasing needs for learning and practicing Japanese of students, this four-sided cooperation agreement will be a new move contributing to the promotion of good ties among sides as well as an opportunity for students majoring in Japanese at ULIS-VNU. ULIS's President Dr. Do Tuan Minh said that he was very happy and proud to see Vietnamese students in Japan becoming more active and creative and having contributions in teaching and learning this language.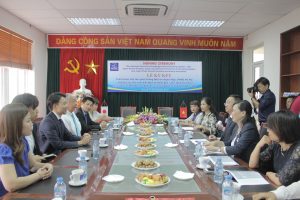 Mr. Minh felt the hardships, challenges and opportunities of Vietnamese students studying Japanese and hoped that more opportunities would be opened in the future after this agreement. At the end of the ceremony, he presented gifts to JAV and JAPI.