SHIMADZU CORPORATION PRESIDENT: VISION, RESPONSIBILITY, CREATIVITY, AND EFFORTS ARE KEY SUCCESS FACTORS
On April 10, 2017, Shimadzu Corporation (Japan) President and CEO Teruhisa Ueda paid a visit to VNU and lectured on "Contributing to society through science and technology – Innovation by Shimadzu Corporation" at Nguyen Van Dao Hall.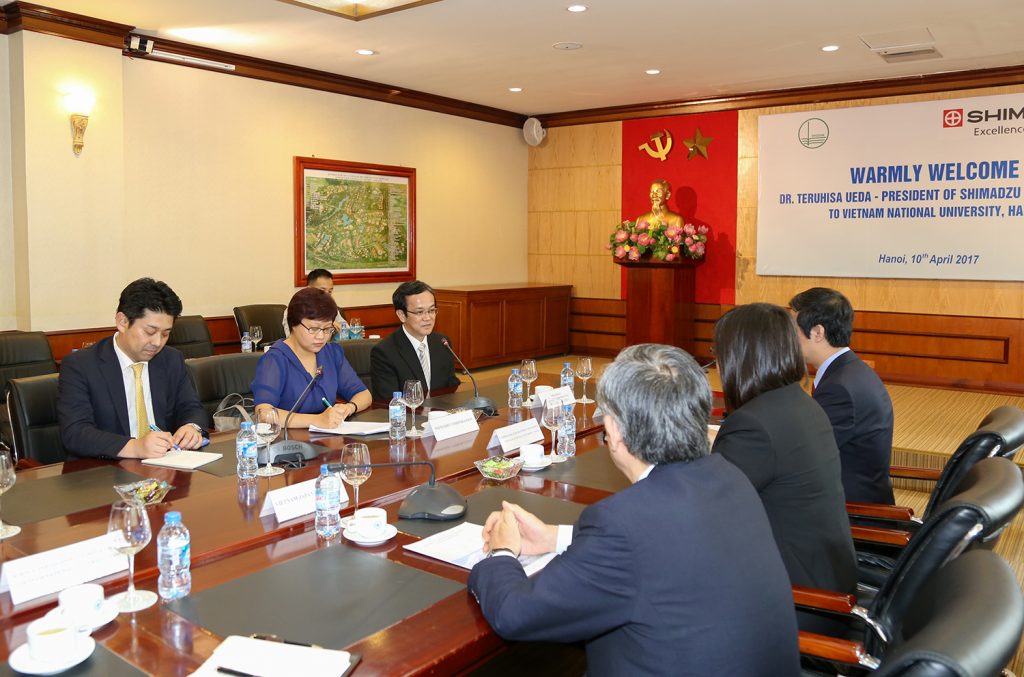 At the meeting before the presentation, VNU President Nguyễn Kim Sơn highly appreciated the visit by Shimadzu Corporation President and CEO Teruhisa Ueda. He said that together with the Honorary Doctor Degree conferred on Mr. Akira Nakamoto – Former President and CEO of Shimadzu Corporation (November, 2012); Japan's Emperor Akihito and Empress Michiko's visit to VNU Museum of Biology (March, 2017); the activities related to VNU VJU's establishment and operation, the current visit by President Teruhisa Ueda contributed to the tightening of the cooperative ties between Vietnam and Japan in general and between VNU and its Japanese partners in particular.
VNU President Nguyễn Kim Sơn hoped that Shimadzu Corporation would continue its support for VNU in research activities as well as for VNU VJU in its high technology training and research undertakings.
VNU President also believed that, with the traditional cooperation between the two sides over the past 20 years, the presentation by the Shimadzu President would encourage VNU students in their studies and contribute to the promoting of the two sides' partnership, a model of effective university-business cooperation, to a higher level.
Expressing his honour to visit and present at VNU, Shimadzu Corporation President Teruhisa Ueda stated that, with the slogan "Contributing to society through science and technology", Shimadzu had offered a multitude of high-precision analytical and measuring instruments worldwide. He also showed his pleasure to support VNU scientists and said that the Corporation would further develop its cooperation with VNU in the coming times.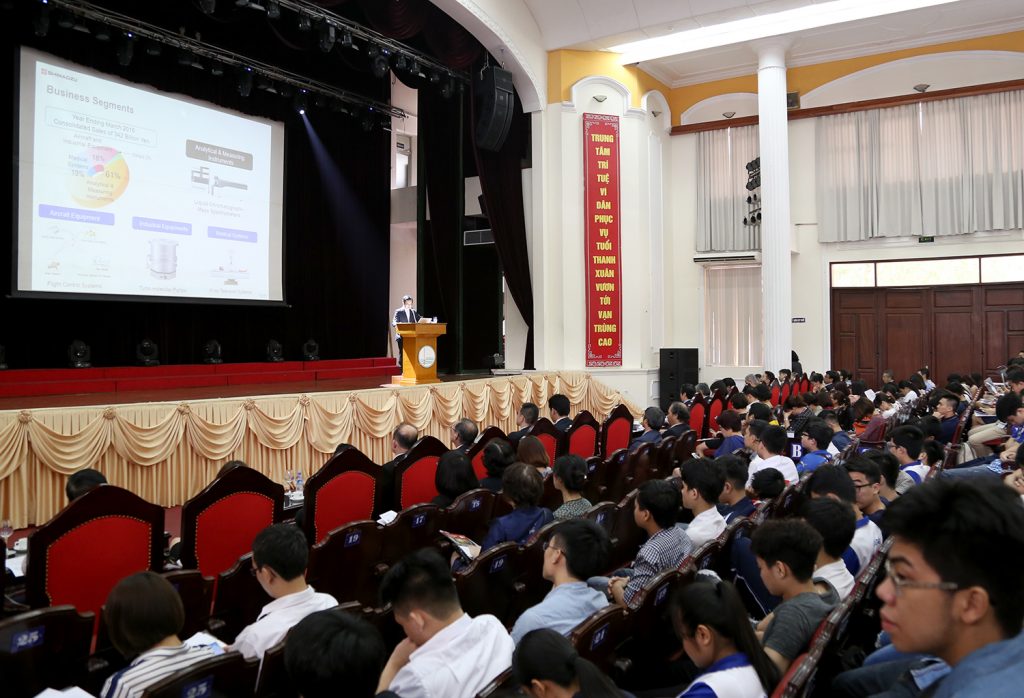 In his presentation, together with the briefing about himself and Shimadzu Corporation, Mr. Teruhisa Ueda informed of Shimadzu Corporation's activities in Vietnam, especially its partnership with VNU; Shimadzu's achievements in technology innovation, and its creative research aimed at technology breakthroughs. He also shared his experience in research as well as Shimadzu's high expectations on global youth – the host of the future.
Creativity and continuous efforts: The key to success
According to Shimadzu Corporation President Teruhisa Ueda, awareness of society's long-term needs is the key to success. Therefore, it is necessary to enhance one's imagination to envisage things needed for further development. Besides, to meet the society's demands, an appropriate technology developed through creativeness and continuous efforts is required. He further noticed: "There are three key success factors not only in research but also in other fields, including high competitiveness, high objective and strong persistence".
Turn your attention outwards
Talking about his experience gained from the two-year-working in the Shimadzu-Kansas Research Laboratory, the University of Kansas (the United States), President Teruhisa Ueda stressed that the then experience had contributed much to his subsequent success. In here (at the named Laboratory), internationalization was clearly felt through working with people from different cultural backgrounds. "The lesson I have learned from working abroad is that one should always turn outwards to the world", he said. Thus, he encouraged the youngsters to widen their perspectives to create new value whenever having a chance to work or study abroad and in the meantime, keep asking themselves the following three questions: (1) How to better understand about the world's peoples' lifestyles and cultures?; (2) How to know what the changing world is requiring of you?; and (3) What can you offer to the world's peoples?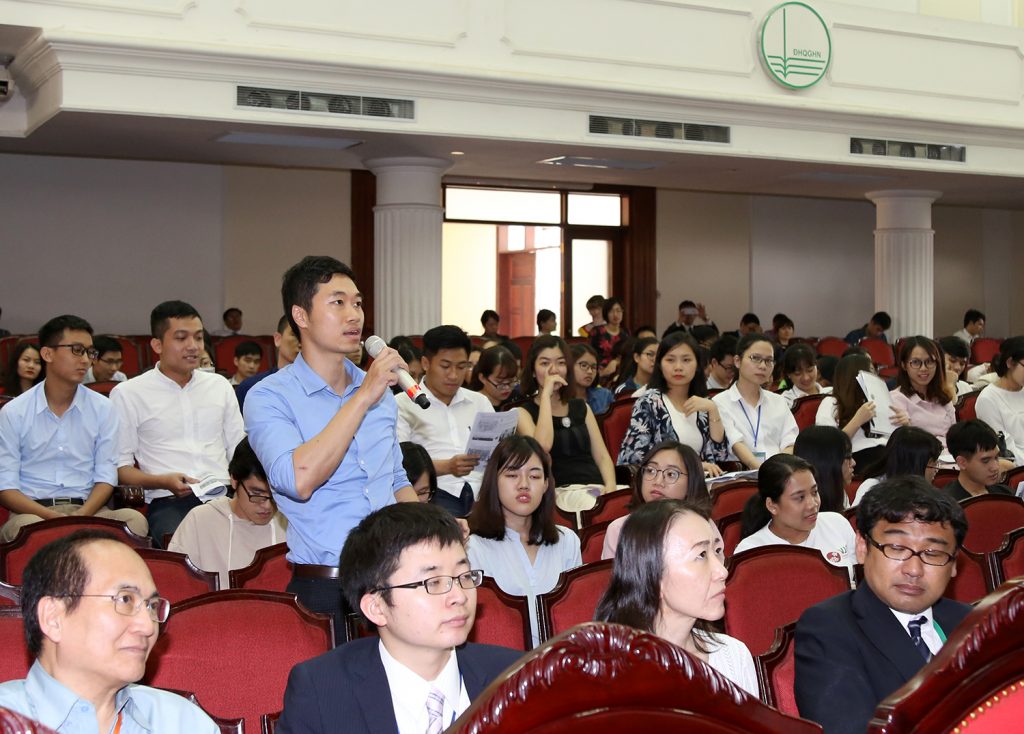 Challenge yourself without fear of failure
Shimadzu President Teruhisa Ueda believed that seriousness was essential at work. He went on citing from a famous speech by Shimadzu's founder Genzo Shimadzu Jr. (1869 – 1951) as follows: "What learned at a university is not a theory, but the ways to apply that theory to practice". With this, President Teruhisa Ueda would like to attract the youth's – the host of the future's attention to his message saying, "Whatever subject you may learn, that is never enough; you should learn much more from peoples' cultures, from real life; socialize yourself with  a wide variety of people from both inside and outside your country, regardless of their ages, education levels, ranks and cultures; always make long-term plans; avoid resembling indifferent black boxes and always challenge yourself with the question 'Why so?" when receiving information in order to expand your knowledge base to get yourself ready to face any new challenges on your way to success".
During the exchange with VNU students and staff, when asked about the balance between profit and social development contribution, the president said, "When we do something that benefits society, we will gain profit. In other words, if we only focus on profit, we cannot get the true success". He also expressed his concern about the environment and hoped for a better understanding of this issue in Vietnam through VNU and Vietnamese youth.
Established in March, 1875, Shimadzu is a big Japanese industrial corporation offering a multitude of products, including analytical and measuring instruments worldwide. Its high-precision measuring instruments are considered as the key to the 21th century's technology.
Some major cooperative projects between VNU and Shimadzu Corporation:
The Shimadzu-funded Virtual Steganographic Laboratory (VSL) built at VNU University of Science in 1998;
The Life Sciences Project at the Faculty of Biology, VNU University of Science;
The Shimadzu-provided equipment for the 2006 World Bank-funded Project at the Faculty of Chemistry, VNU University of Science.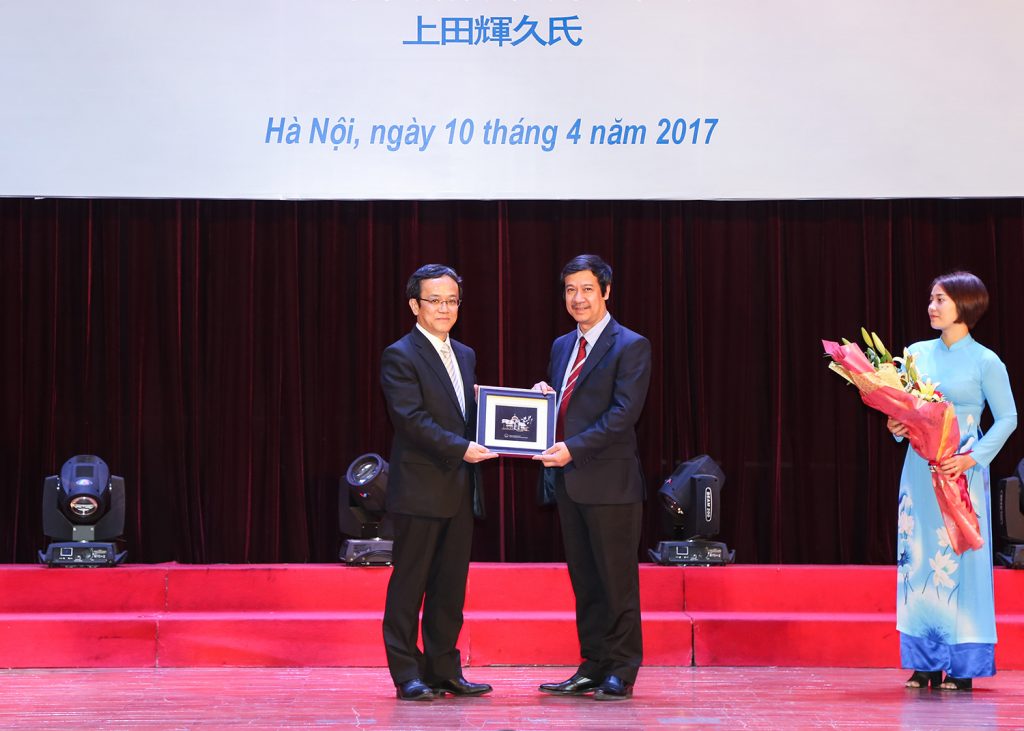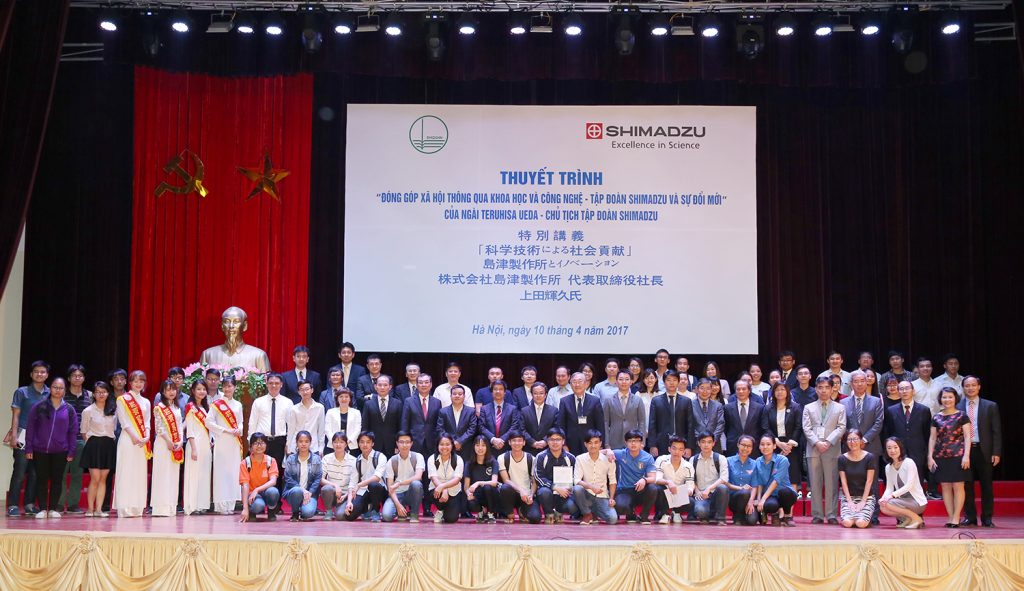 Sinh Vu – Quoc Toan (photos) – VNU Media