ULIS signed the cooperation agreement with CENGAGE Learning Vietnam
The signing ceremony of cooperation agreement between ULIS – VNU and Cengage Learning took place on November 14th, 2016.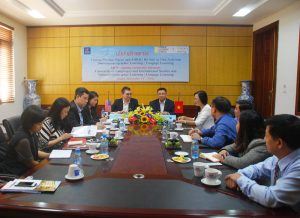 From ULIS, the ceremony was attended by Dr. Do Tuan Minh – President, Dr. Nguyen Xuan Long – Vice-President, Assoc. Prof. Dr. Nguyen Lan Trung – President of Consultancy Council for Cooperation and Development, Dr. Do Minh Hoang – Director of Cooperation and Development Office, Dr. Nguyen Thi Ngoc Quynh – Director of Center for Language Testing and Assessment, M.A. Vu Thuy Quynh – Dean of Faculty of Language education and Professional Development, Dr. Vu Thi Thanh Nha – Dean of Faculty of English, Dr. Vu Hai Ha – Dean of English Language Teacher Education, Assoc. Prof. Dr. Lam Quang Dong – Director of Science and Technology Office, M.A. Khoa Anh Viet – Director of Center for Information and Technology, Communication and Learning Resources.
From Cengage Learning Vietnam, Michael Cahill – Director of Cengage Learning Asia, Luong Duy Anh – Director of National Geographic Learning, Nguyen Hue Chi – Director of Governmental relations – National Geographic Learning participated in the ceremony.
Based on the previous meetings, ULIS and Cengage Learning Vietnam signed the cooperation agreements on training, research, teacher training, learning material exchange, etc.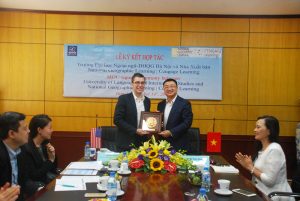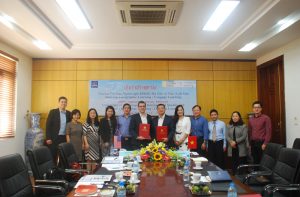 In addition, the two sides discussed their cooperation activities in the upcoming time. Detailed orientations and highly feasible suggestions were proposed and considered by both sides.
On behalf of ULIS, Mr. Minh showed his happiness for cooperating with Cengage Learning, one of the top training organizations worldwide as well as Cengage Learning Vietnam. Meanwhile, Michael Cahill was pleased to work with ULIS, one of the top universities in Vietnam.
At the end of the ceremony, both Mr. Minh and Mr. Cahill expressed their expectations of high efficiency in the next cooperation activities, which would act as the basis for the solid and long-term relationship between the two sides.