Aya Sekizawa: "I love Banh my in ULIS"
I think I have many good and wonderful experiences in Vietnam. The first memory was the Vietnamese language classes. I hadn't learned Vietnamese before so I just wondered if I could understand it. But we were taught the language in English by kind teachers. It was easy to understand to me. I appreciate my teachers very much. I could introduce myself, count numbers and read the time in Vietnamese. I could also go shopping, have meals in restaurants and visit the city without using a single English word. The best thing was that I could read words on billboards. I really wanted to master this beautiful language.
The second experience is trips to a lot of places. In this journey, I visited Da Nang city, Hoi An city and Trang An tourism complex. All of them were beautiful. My most favorite place is Trang An. I saw many mountains, rivers, plants and wild animals there. Everything here was special for my liking.
I would be remiss to not mention the Vietnamese food. I hadn't liked 'Rau mui' (coriander) before coming to Vietnam. However, when I stayed in the country, there were many kinds of food that I could eat without bad feelings. I've tried many dishes such as "Phở" (noodle soup), "Bánh mỳ" (stuffed French baguette), "Bún chả" (vermicelli and grilled meat with sweet and sour fish sauce) and so on. "Bún thang" (vermicelli with julienned chicken, ham and egg) in Hanoi is the dish that I remember the most when I returned to Japan. One of my friends introduced me to this specialty. It tastes like seafood ramen in Japan. I also love "Banh my" at ULIS and had it three times.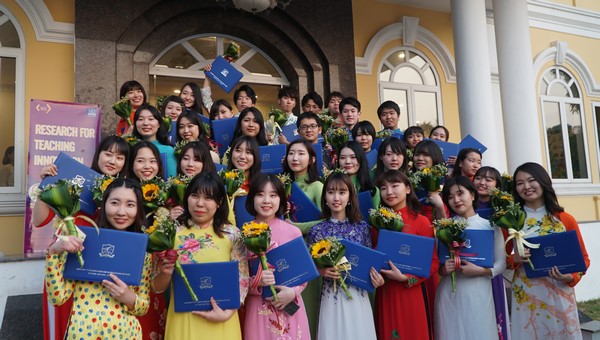 Finally, I would like to pen some lines for my companion at ULIS. Her Japanese name is  "Kaori". She was very kind to me. She often taught me how to pronounce Vietnamese words and introduced good restaurant and places to me. I think that I was the happiest person on earth back then. She can speak good Japanese, English and Vietnamese. She definitely made my trip much more memorable. Finally, I think that my Vietnamese skills developed greatly during my time in Vietnam and have decided to learn more English and Vietnamese. With all of my heart, I'll come back to Vietnam again for sure.